We all are waiting for Windows 7 Beta 1 build 7000 to get release but it seems some one out their already have access to Windows 7 Build 7012.
Here is Another set of screenshots and this time it is Windows 7 build 7012. The screenshots of build 7012 has surfaced on one of famous Chinese website PCBETA.com.
A thread started with name of "Win7_7012 been released, with plans to install" on pcbeta.com forum outlines the details of windows 7 build 7012. Actual thread where the screenshot of windows 7 build 7012 were posted has been deleted by moderator with reason that no ISO download link is made available hence screenshot cannot be posted.
Screenshot of Windows 7 Beta 1 Build 7012 (6.1.7012):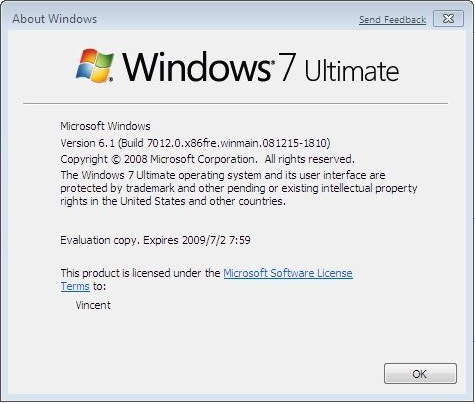 It's difficult to believe Chinese users to have access to Windows 7 Build 7012 and comments on neowin & pcbeta have raised several concerns over these screenshots and looks like its fake screenshots. I suppose we need to wait until some one from windows 7 dev team or beta testers to confirm these screenshots.
But we cannot deny from the fact that Microsoft is already ready with windows 7 build 7012 or even higher build. Since few days back Scott Wylie, Director of Development and Platform Strategy for Microsoft New Zealand Director had published a screenshot of Windows 7 Beta Build 7004 on his blog.
The good news is that the Guy who has posted this screenshot on pcbeta.com has promised to seed it to prove he has windows 7 build 7012. I guess the wait for windows 7 beta 1 leak is not so longer now, anytime Windows 7 Beta 1 torrent download link will appear.
Some details of Windows 7 Beta 1 Build 7013
A screenshot posted by that guy show that he is downloading Windows 7 build 7013 iso using Microsoft
File
Transfer
Manager utility and we can get file name of windows 7 build 7013 iso as well as size of that file
File Name Windows 7 build 7013 ISO
Windows_7_beta_1_build_7012.0.081220-1600_x86fr_client_en-us-gblcfre… (Incomplete file name)
File size: 2129.92MB ~ 2.13GB (size looks less then Windows 7 beta 1 build 700)
Well I can't assure any thing about these details it could be fake or photoshoped images.